Local community-based diabetes education for patients, health professionals and the public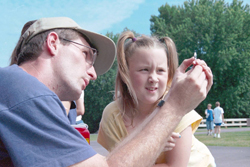 Diabetes is the leading cause of new cases of blindness in people aged 20-74. It is also a major cause of complications including much higher incidences of heart disease, stroke, high blood pressure, kidney problems, nerve damage, and amputations.
Diabetes awareness was adopted as a long-term commitment of Lions International in March 1984. The primary objective of the Lions project was to reduce the number of new cases of blindness caused by diabetic retinopathy (a common complication of uncontrolled diabetes) through diabetes education, early detection and treatment, and support of research.
Wisconsin Lions Foundation actively supports efforts to inform, educate, and to help prevent and control diabetes. Wisconsin Lions are uniquely positioned to help serve because of their reach into nearly 600 communities. An estimated 4000+ Wisconsin Lions have diabetes.
In 1999, the Wisconsin Lions Foundation received a $100,000 grant from the Lions Clubs International Foundation and undertook development of a major new initiative: a community-based diabetes education project for patients, health professionals, and the public.
WLF supports planning and communication programs of local club organization and community diabetes awareness leadership building. As part of that effort, an easy-to-follow Club Community Diabetes Manual and materials for several model projects was developed. These include press releases for community newspaper public service announcements, handout brochures and more.
Lions, through WLF, are the only service organization represented on the Diabetes Advisory Group (90 + health care experts) guided by the Diabetes Prevention and Control Program of the Wisconsin Division of Public Health. This group publishes and periodically updates an "Essential Diabetes Care Guidelines" for health professionals.
Some facts from an informational letter about diabetes mailed to state legislators about a 2008 follow-up study to one performed just three years earlier emphasizes how important Lions can be to the people of Wisconsin through public awareness and education about diabetes:
"The National Kidney Foundation of Wisconsin and the Wisconsin Lions Foundation are pleased to provide your organization with the updated version of the Burden of Diabetes in Wisconsin". This resource was created in partnership with the Wisconsin Diabetes Prevention and Control Program (DPCP), Wisconsin Division of Public Health.
This 2008 report provides key data for the entire state, with analysis by county, race/ethnicity, and information on children and adolescents.
WHAT THE NEW WISCONSIN DATA SHOW:
Data show the overall prevalence of diabetes for Wisconsin has increased:
Adult prevalence increased more than 27% from 329,460 to 419,870
The age-adjusted percentage of adults with diabetes increased from 7.8% to 9.6%
It is estimated that there are 6,000 children and adolescents in Wisconsin with diagnosed diabetes, a substantial increase from previous data
An estimated 1.06 million adults 20 years and above in Wisconsin have pre-diabetes
Related societal costs have increased substantially as well:
Diabetes-related hospitalizations increased nearly 11% from 85,113 to 94,331
Diabetes-related hospitalization charges increased more than 48% from $1.35 billion to $2.0 billion
Overall estimated costs of diabetes in adults has increased 16% from $4.47 billion to $5.19 billion
These dramatic increases over the past three years demonstrate the importance for each of us to renew our commitment to prevent and increase the management of diabetes in our Wisconsin".
With the content expertise and support of this group the Wisconsin Lions Foundation has produced and widely distributed four patient information DVD's for use by medical professionals and individuals; Chronic Kidney, Diabetic Retinopathy, Dilated Eye Exam and Type 1 Diabetes: Caring with Confidence.
National Diabetes Awareness Month is November. Wisconsin Lions Foundation routinely prepares and promotes use of local Club diabetes awareness publicity programming materials and tips.WLF also distributes more than 70,000 diabetes informational brochures in Wisconsin communities on Diabetes Alert Day each March.
Additional information and related materials are available from the Wisconsin Lions Foundation; click here to request diabetes information. You'll also find further information at www.lionsclubs.org.